Diedra Krieger
Lab Coordinator
diedrak@seas.upenn.edu
About
Diedra coordinates Kod*lab's projects and outreach. She is an intermedia artist and curator working at the intersection of art and engineering. Her ongoing project Plastic Fantastic, a geodesic dome built from 6000 water bottles, has been exhibited across the country. Diedra has an MFA from VCFA and an MA from Monash University in development studies.
Video Production
NSF Penn GRASP Research Experience for Teachers from videohall.com on Vimeo.
During the summer of 2017, ten middle school math and science teachers conducted robotics research at Penn Engineering. Melanie Young, 7th grade math teacher, describes her experience with Jianbo Shi's lab and her mentor Yuanqi Su.
During the summer of 2016, the GRASP Lab at the University of Pennsylvania's School of Engineering and Applied Sciences hosted 10 middle school math and science teachers from the School District of Philadelphia. The teachers spent 6+ weeks learning about and conducting research in the field of robotics while developing curriculum that could be applied in their classrooms in order to inspire and develop engineering and computer science skills in their students. Three of those teachers and their experiences in the program, are represented here. Funding for the Robotics Research Experience for Teachers program comes from the National Science Foundation (#1542301). For more information, visit: https://www.grasp.upenn.edu/programs/….
Penn undergraduate, Anna Brill, took a year off from research with Kod*lab to be a Robot Technician for the Museum of Science & Industry, Chicago's Robot Revolution. In this video, get to know Anna at the Denver Museum of Nature & Science, her next stop with the exhibit after Chicago before returning to Penn Engineering to start her senior year. Check it out to hear Anna's story and learn about her exciting and unique career path into research and robotics.
Undergraduates working in Kod*lab are important to the lab's success in building robots and advancing research. The students' experiences have often led to undergraduate-authored refereed publications and exciting careers in robotics. Kod*lab's recent undergraduate research assistants, Shafag Idris '15, Electrical and Systems Engineering, and Justin Starr '15, Mechanical Engineering and Applied Mechanics, share their experiences and insight while working in Kod*lab and post-graduation plans.
Art and Robotics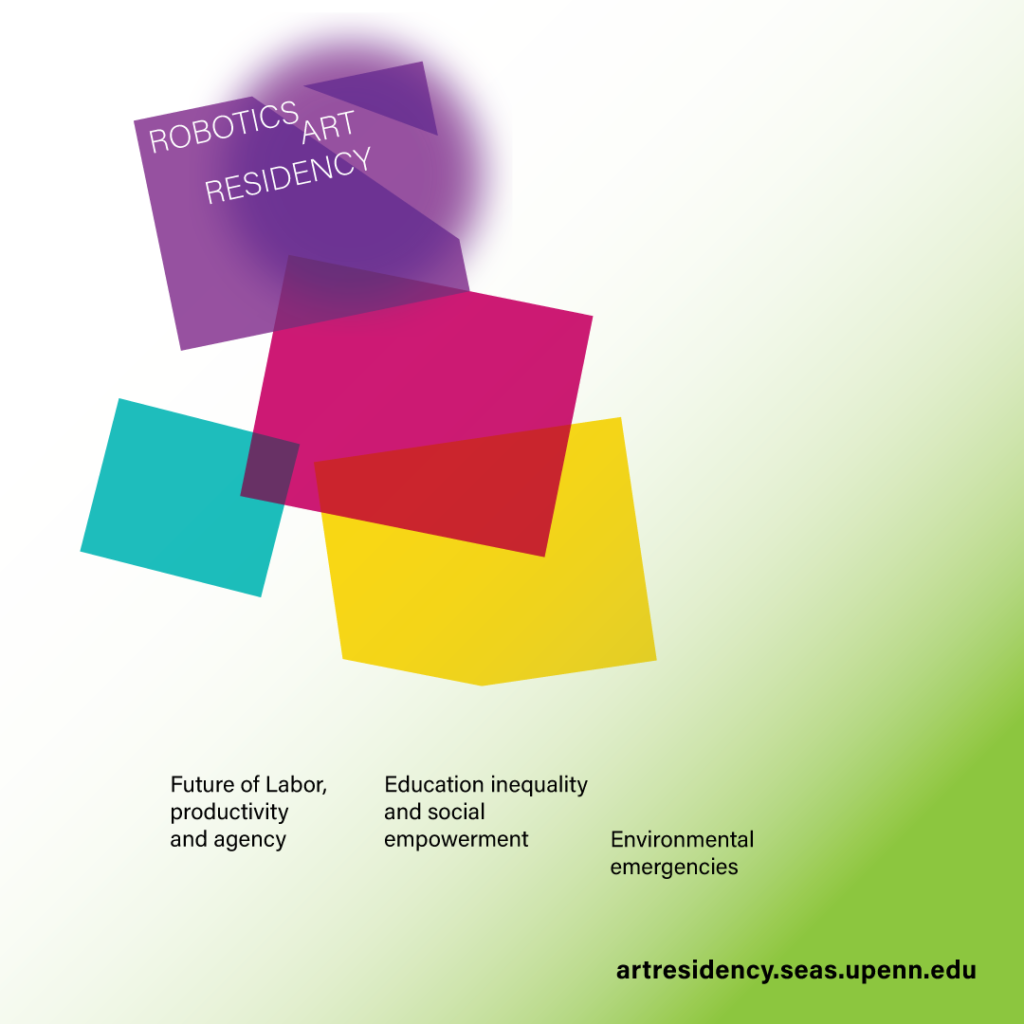 The Nomadic Monument for Women in Robotics, designed by Diedra Krieger and Gaby Alfaro, celebrates the innovations of eight women pioneers in the field of robotics – Ruzena Bajcsy, Lynne Parker, Hadas Kress-Gazit, Lydia Kavraki, Ayanna Howard, Daniela Rus, Helen Grenier and Katherine Kuchenbecker. The portraits and descriptions of women roboticists challenge stereotypes about who can be an engineer, allowing young girls to start developing a sense of belonging in an informal STEM learning environment. Joey Hartmann-Dow's near life-sized portraits at eye level around the inside of the dome create a space that allows for a visual connection between the visitors and the roboticists. Visitors can read quotes of key moments or experiences that made them become pioneers in their field. The Monument was sponsored by the Philadelphia Science Festival (2018) and The GRASP Lab.
Trashbots was a workshop developed by Sonia Roberts and Diedra Krieger for the event "Be a Pennovator" as part of the 2017 Philadelphia Science Festival. Middle school students created locomoting robots using motors, 2 rechargable AAA batteries, post-consumer materials, wire, laser cut acrylic and basic art supplies. The concepts of energy and physical programming were demonstrated using working Trashbots and practiced during an introductory exercise making a vibrating motor from a spinning one. Participants then created a legged robot of their own design using iterative experimentation and took their final creations home with them.
Shortly before the Penn School of Design classes began in Fall of 2014, RHex borrowed a studio and explored its artistic abilities. RHex had three artist assistants, Anna, Mauricio and Diedra, to help with the execution. The path of the robot was not preplanned but in the future RHex will have the ability to walk without human assistance. Most of the painting was done using a tripod gait. Other mark making was done by using the turn in place behavior. The turn in place enabled the legs to have longer contact with the ground to make more interesting marks. At first the tire treads from its C shaped legs left decisive traces on the paper. Sponge brushes attached to the legs had the most painterly results..
On Saturday, October 11, 2014, nine high school students from The Franklin Institute's (TFI) Partnerships for Achieving Careers in Technology and Science (PACTS) program participated in Kodlab's art and robotics workshop, "TOBI in the House". Students collaborated in groups of 3 to produce a video art piece with TOBI (teaching oriented biologically inspired) Robot, a four-legged robot, by developing a narrative, creating a set design and physically programming the robot's performance. This was one of the videos from the workshop.
Penn engineering students were motivated to learn how to program a legged robot using the narrative of a "dance competition," with the winning dances to be showcased at the Philadelphia Science Festival in 2014.
Posters