Kod*lab
---
We are interested in the application of dynamical systems theory to the invention and construction of intelligent machines and systems, with a particular focus on biologically inspired robotics. Many of us have worked in robotics with emphasis on dynamical dexterity and the management of kinetic energy in designing machines capable of performing useful work on their bodies and environments. Others of us have worked on more abstract problems of control and coordination with the object of developing new methods of design and analysis toward the construction of such machines.
News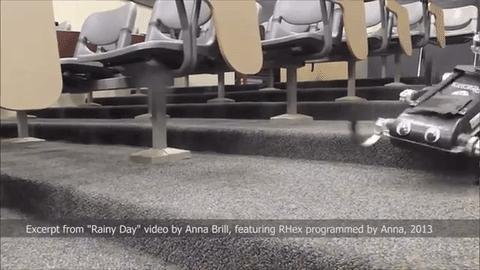 Anna Brill, Kod*lab Undergraduate Researcher featured on Technical.ly
March 14th, 2017
Kod*lab's Anna Brill is featured on technical.ly. Anna took a year off from research with Kod*lab to be a Robot Technician for the Museum of Science & Industry, Chicago's Robot Revolution.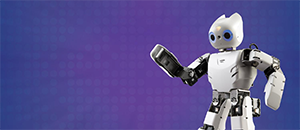 RHex at Robot Revolution at The Franklin Institute
October 8, 2016
Robot Revolution, is a groundbreaking exhibition, that debuts in Philadelphia at The Franklin Institute, Saturday, October 8, 2016. See a collection of 40 cutting-edge robots from around the world, including RHex and RISE. There are lots of interactive, hands on activities to engage with the robots. One can even operate RHex!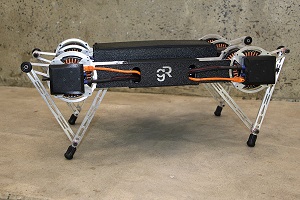 Ghost Minitaur intro video is out
September 14, 2016
Ghost Robotics, a spin-off company cofounded by lab PhD students Avik De and Gavin Kenneally released their first video officially introducing Ghost Minitaur to the world.
Youtube link: https://www.youtube.com/watch?v=_YrWX9ez3jM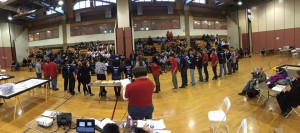 Kod*lab judged First Lego League Qualifying tournament at Central High School
September 8th, 2016
As part of our outreach efforts to support and encourage youth interested in STEM and robotics, Kod*lab judged FLL Qualifying Tournament at Central High School earlier in 2016. Next, we are looking forward to participating in the opening day events of Robot Revolution at the Franklin Institute on October 8th. More soon!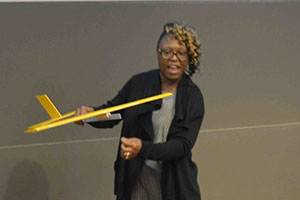 Why 10 District teachers spent their summer doing grad-level STEM research
August 23rd, 2016
GRASP's Research Experience for Teachers (RET) for Middle School Teachers is featured on Technical.ly Kod*lab is one of three labs hosting teachers. The project is supported by NSF Award #1542301.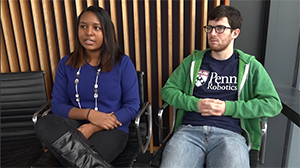 Video Friday: What Happens in Kod*lab?
March 16th, 2016
Kod*lab is featured on IEEE "Video Friday:What Happens in Kod*lab?". Undergraduates working in Kod*lab are important to the lab's success in building robots and advancing research. The students' experiences have often led to undergraduate-authored refereed publications and exciting careers in robotics. Kod*lab's recent undergraduate research assistants, Shafag Idris '15, Electrical and Systems Engineering, and Justin Starr '15, Mechanical Engineering and Applied Mechanics, share their experiences and insight while working in Kod*lab and post-graduation plans.
Penn's Robotics Specialization on Coursera
February 16th, 2016
This MOOC Specialization consists of six courses that will introduce the learner to how robots sense and reason about the world in which they live, how they plan three-dimensional movements in a dynamic environment and how they fly or run while adapting to uncertainties in the environment. Upcoming session: Mar 14 — Apr 18, 2016. READ MORE

Daniel Koditschek Receives 2016 IEEE RAS Pioneer Award
February 16th, 2016
Daniel Koditschek, Alfred Fitler Moore Professor in the Department of Electrical and Systems Engineering, is the recipient of the 2016 IEEE RAS Pioneer Award for his seminal contributions to the mathematical and empirical foundations of robotics, leadership in robotics research and inspired mentorship of the next generation of roboticists. READ MORE