Kod*lab
---
We are interested in the application of dynamical systems theory to the invention and construction of intelligent machines and systems, with a particular focus on biologically inspired robotics. Many of us have worked in robotics with emphasis on dynamical dexterity and the management of kinetic energy in designing machines capable of performing useful work on their bodies and environments. Others of us have worked on more abstract problems of control and coordination with the object of developing new methods of design and analysis toward the construction of such machines.
News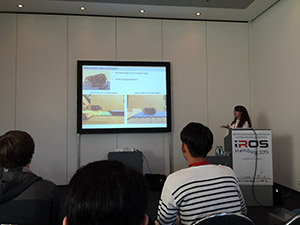 IROS 2015
November 6th, 2015
Anna Brill presented the paper "Tail-Assisted Rigid and Compliant Legged Leaping" at the International Conference on Intelligent Robots and Systems (IROS2015) in Hamburg, Germany in September 2015. Anna was an undergraduate researcher with Kodlab 2013 – 2015 and is currently on leave at the Museum of Science and Industry for the Robot Revolution exhibition where she is one of three robot specialists.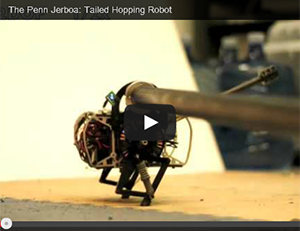 Unveiling the Jerboa: a new tailed bipedal robot
April 7th, 2015
The Jerboa is a 12DOF, passive-compliant legged, tailed biped actuated by four brushless DC motors. We anticipate that this robot will be capable of executing a broad range of locomotion tasks including sitting, standing, walking, hopping, running, turning, leaping, and more. The first behavior we are researching is tail-energized planar hopping, which showcases a novel use for a robotic tail. The attached video describes how the control strategy is developed as a parallel composition of decoupled templates.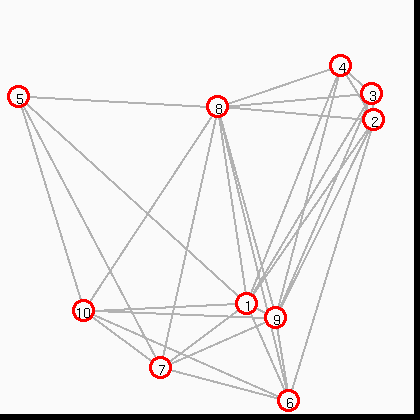 RSS 2014, WAFR 2014
February 6, 2015
Omur Arslan presented the paper "A Recursive, Distributed Minimum Spanning Tree Algorithm for Mobile Ad Hoc Networks" at 2014 Robotics: Science and Systems Conference (RSS2014), CarNet Workshop, in Berkeley, California and paper "Navigation of Distinct Euclidean Particles via Hierarchical Clustering" at International Workshop on the Algorithmic Foundations of Robotics 2014 (WAFR2014) in Istanbul, Turkey.
---