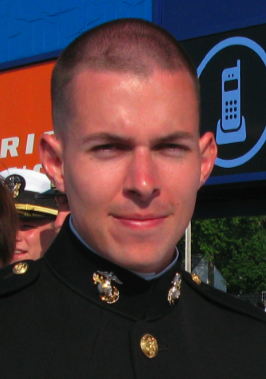 About Me
mwhite [at] seas [dot] upenn [dot] edu
My name is Mackenzie White and I am currently a PhD Candidate in the Department of Electrical and Systems Engineering at the GRASP Lab at the University of Pennsylvania. My advisors are Professor Daniel E. Koditschek, the Alfred Fitler Moore Professor and Department Chair of the Electrical & Systems Engineering Department and Professor Kostas Daniilidis, Director of the GRASP Lab.
I graduated with Distinction from the United States Naval Academy in 2007 with a Bachelor of Science degree in Systems Engineering. I was commissioned a Second Lieutenant in the United States Marine Corps and am currently studying at Penn as part of the Marine Corps' Advanced Degree Program.
I have been named a John J. McMullen Fellow for the 2008–2009 school year.
Research Interests
Realtime vision via the Nvidia graphics card and CUDA
Vision-based control
Sensor fusion
Current Projects
Image stabilization with the aide of an IMU
Feature-based navigation of unknown, indoor environments
Designing a sensor suite for the newest RHex descendent - X-RHex
Previous Projects
Teaching Assistant
CIS 581: Computational Photography and Computer Vision
Projects Supervised
Senior Design Projects
Autonomous Navigation for Edubot by Sam Russem, Cameron Finucane and Helen Kim Supervised with Deniz Ilhan (2008–2009)
Edubot Accelerometer Suite by Hal Paver and Elisa Downey-Zayas Supervised with Dr. Haldun Komsuoglu (2007–2008)
2007–2008 Frederick Ketterer Award Recipients
High School Internships
Christina Sfedu, Springside School - Hand-built GPS Receiver (May 2008)
---